Thème du jour : une photo de 2007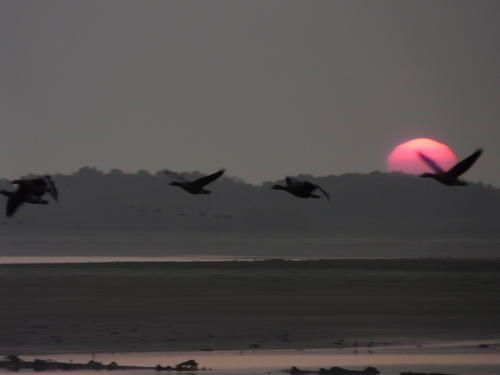 On the 16th october, lots of cranes were leaving the lake Der for some hours or to fly to Spain
and some geeses came back.
Le 16 octobre dernier plus de 30 000 grues quittaient le lac du Der pour la journée ou pour l'espagne. Quelques oies en profitaient pour revenir sur les bords de ce lac.

The theme day for January 2008 is the "photo of the year 2007".
Le thème du 1er janvier 2008 est "la photo de 2007" pour les blogs participants.
111 blogs présentent leur choix.
There are currently 111 blogs participating in this theme day:
Paris, France - London, England - Hyde, UK - West Sacramento (CA), USA - Grenoble, France - Stockholm, Sweden - Riga, Latvia - Saint Paul (MN), USA - Manila, Philippines - Silver Spring (MD), USA - Weston (FL), USA - Prague, Czech Republic - New Orleans (LA), USA - Wichita (KS), USA - Cleveland (OH), USA - San Francisco (CA), USA - Hobart (Tasmania), Australia - Greenville (SC), USA - Kuala Lumpur, Malaysia - Menton, France - Monte Carlo, Monaco - Mainz, Germany - Melbourne, Australia - Portland (OR), USA - Albuquerque (NM), USA - Wassenaar (ZH), Netherlands - Kyoto, Japan - Tokyo, Japan - Toulouse, France - Naples (FL), USA - Jakarta, Indonesia - Brussels, Belgium - Stayton (OR), USA - Selma (AL), USA - Mexico City, Mexico - Ocean Township (NJ), USA - Minneapolis (MN), USA - Port Angeles (WA), USA - Toruń, Poland - Fort Lauderdale (FL), USA - Budapest, Hungary - Baziège, France - Nashville (TN), USA - Saint Louis (MO), USA - Cottage Grove (MN), USA - Chicago (IL), USA - Prescott (AZ), USA - Bellefonte (PA), USA - Nottingham, UK - Moscow, Russia - Philadelphia (PA), USA - Evry, France - Trujillo, Peru - Arlington (VA), USA - Denpasar, Indonesia - American Fork (UT), USA - Seattle (WA), USA - Chandler (AZ), USA - Coral Gables (FL), USA - Montpellier, France - Joplin (MO), USA - Pilisvörösvár, Hungary - Crystal Lake (IL), USA - Bucaramanga (Santander), Colombia - Boston (MA), USA - Torun, Poland - New York City (NY), USA - Dunedin (FL), USA - Quincy (MA), USA - Stavanger, Norway - Chateaubriant, France - Maple Ridge (BC), Canada - Jackson (MS), USA - Wailea (HI), USA - Port Elizabeth, South Africa - Budapest, Hungary - Austin (TX), USA - Montréal (QC), Canada - Cypress (TX), USA - Bicheno, Australia - Wrocław, Poland - Brookville (OH), USA - Minneapolis (MN), USA - Nelson, New Zealand - Cheltenham, UK - Wellington, New Zealand - Rabaul, Papua New Guinea - Mumbai (Maharashtra), India - London, UK - Haninge, Sweden - Saint-Petersburg, Russian Federation - Arradon, France - Jefferson City (MO), USA - Orlando (FL), USA - Mumbai, India - Terrell (TX), USA - Bogor, Indonesia - Delta (CO), USA - Radonvilliers, France - Saigon, Vietnam - San Diego (CA), USA - Adelaide (SA), Australia - Belgrade, Serbia - Auckland, New Zealand - Seguin (TX), USA - Inverness (IL), USA - Oslo, Norway - Singapore, Singapore - Las Vegas (NV), USA - New York City (NY), USA - Anderson (SC), USA